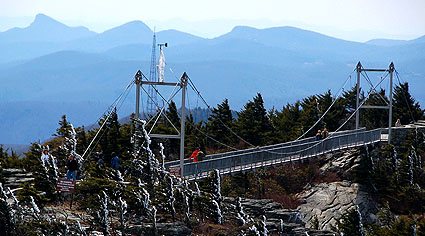 All those that work and reside in the six counties served by High Country Host, along with guests traveling in the same vehicle, are invited to visit Grandfather Mountain for a discounted rate during the month of December with proof of local employment or residency.
The special December Dollar Days admission is offered to residents and those working in the six counties represented by the NC High Country Host regional travel promotion organization:  Mitchell, Avery, Watauga, Ashe, Alleghany and Wilkes.  The discount is also extended to students of colleges and universities in the High Country and to guests traveling in the same vehicle with those eligible for the December discount.  Please present a driver's license, college ID, or local utility bill as proof of High Country residency.  An employee identification badge or pay stub can be used to show employment at a High Country business.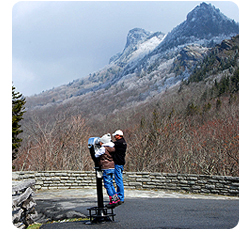 A slight change has been made to the Dollar Days rates to encourage guests to plan their visits for times when lines are shorter or nonexistent.  Admission for eligible Dollar Days guests will still be $1 per person on weekdays and on weekends before 10 am.  On weekends after 10 a.m., Dollar Days admission will be $2 per person.
"We are pleased that people respond so positively to our Dollar Days promotion," said Grandfather Mountain Stewardship Foundation President Penn Dameron. "One of the side effects of this popularity, however, has been that we have seen long lines develop at our entrance gate during peak hours.  We hope that this slight change to the promotion will reduce traffic congestion in the middle of the day, and will result in a more enjoyable experience for everyone."
Due to an immediate need at local food banks, Grandfather Mountain is once again adding an extra way for those who work and reside in the High Country to take advantage of December Dollar Days.
This December instead of paying $1 (on weekdays or weekends before 10 a.m.) or $2 (on weekends after 10 a.m.) in cash for admission to Grandfather Mountain, you can choose to donate 1-2 cans of food per person for Grandfather's December Food Drive.  All donations will be distributed to High Country food pantries.
"We encourage everyone who wants to take advantage of our Dollar Days offer to donate cans of food as the price of admission. This will double the benefit to the community," said Dameron.
Many regular visitors believe that winter is the most beautiful season at Grandfather and visitors can expect to see 360 degree views from the Mile High Swinging Bridge that seem to go on forever.
Although the bears will be hibernating in December, the Mountain has four other animal exhibits where guests can see and photograph cougars, river otters, a golden eagle and white-tailed deer from close range in their natural surroundings.
The Nature Museum is a cozy place to duck into for a break from the chill. Mildred's Grill offers homemade vegetable soup and chili, as well as salads and sandwiches.   Just down the path, Grandfather's Fudge Shop has 20 savory flavors to choose from including peppermint stick, pumpkin pie and caramel peanut bar.
Another great opportunity while visiting the park during the winter is to visit the Mountain's gift shops.  Many holiday presents for all age ranges can be found among the dozens of memorable items and collectibles stocked in the gift shops especially for the winter months.
The Mountain is open every day in December, weather permitting, with three exceptions.  The park will have reduced hours December 8 and 24 with ticket sales ending at 2 p.m. and the park closing at 3 p.m. The park will be closed all day December 25.   The hours of operation for the month are 9 a.m. to 5 p.m. with ticket sales ending at 4 p.m.  For current weather conditions, phone the Entrance gate at 828-733-4337.