Due to a forecast for rain this weekend, Grandfather Mountain's annual Creatures of the Night & Bonfire Delight, set for Saturday, Oct. 3, has been canceled.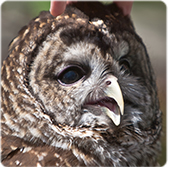 Presently, there is no rain date for this event, and all those who have registered will be fully refunded.
The Mountain will still be open during regular fall weekend hours, 8 a.m. to 6 p.m. During the week, hours remain 9 a.m. to 6 p.m.
Those looking for autumn fun at Grandfather Mountain are encouraged to visit the weekends of Oct. 3, 4, 10, 11, 17 and 18 for "The Colors of Grandfather" guided walks. During these walks, which take place at 1 p.m. each day, staff naturalists will lead guests through locations on the mountain featuring the most brilliant fall foliage, while explaining the science behind the annual phenomenon.
"The Colors of Grandfather" is included in park admission.
On Halloween, Oct. 31, Grandfather will host its annual "Beary Scary Halloween," during which younger guests and their parents or guardians can celebrate the spooky season with crafts, nature programs, trick or treating and a costume contest, all included with park admission. Children in costume will be admitted for half price.
For more information, call (828) 733-2013.