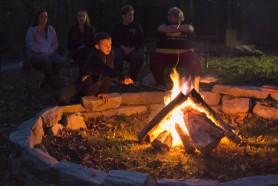 Online registration is now open for Grandfather Mountain's Creatures of the Night & Bonfire Delight.
The event, set for Saturday, Oct. 3, features spooky stories told by firelight and rare after-dark tours of Grandfather Mountain.
After joining for hot chocolate and apple cider by the bonfire, guests will join the Animal Habitats staff for a nighttime trek on the mountain.
Participants will take a guided tour of the animal habitats and beyond, as well as an Owl Prowl to search for the noisy nocturnal natives. They also have the opportunity to meet several of the mountain's educational animals, including Archie the opossum, Taz the skunk and Grandfather's resident owls.
"Seeing the animals that roam after dark is a real treat," habitats curator Christie Tipton said. "There's nothing better than getting outside in the crisp autumn air."
The event will be held from 5:30 p.m. to 9:30 p.m. Oct. 3.
Participants must be at least 8 years old to attend, and registration is required. Admission to the program is $20 per person.
Guests should dress warmly and bring blankets, flashlights and s'mores ingredients to enjoy around the fire.
To register, click here, or call (828) 733-2013.
The not-for-profit Grandfather Mountain Stewardship Foundation strives to inspire conservation of the natural world by helping guests explore, understand and value the wonders of Grandfather Mountain. For more information, call (800) 468-7325, or visit www.grandfathermountain.org.