Click here to see the rest of the 2011 Fall color Gallery.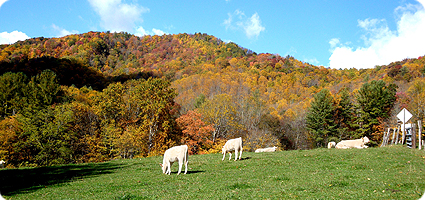 Oct. 15 –  The wind has calmed down a little today and visitors are being allowed to visit the Mile High Swinging Bridge.  With temperatures in the 40s and winds sustained near 25 mph, it is not the kind of day when you want to hang out at the Swinging Bridge for hours — but folks will at least want to go up there to take some pictures because the view is spectacularly clear.
Tips for visiting Grandfather Mountain during peak fall color season.
Lots of leaves are finding their way to the ground, but in the 3,000-foot elevations like Boone, Foscoe and Valle Crucis (where the cows in today's photograph graze), there is still plenty of color left on the trees.
The best route for color right now is the Blue Ridge Parkway from Spruce Pine to Virginia.
Other colorful routes are
NC 105 from Linville to Boone,
NC 184 from Tynecastle to Banner Elk,
Beech Mountain Parkway to the top of Beech Mountain,
NC 181 from Jonas Ridge to Newland,
NC 194 from Elk Park to Banner Elk (road construction between Banner Elk and Valle Crucis),
US 19E from Spruce Pine to Cranberry
US 321 from Boone to Watauga Lake
US 421 from Boone north to Trade, TN.