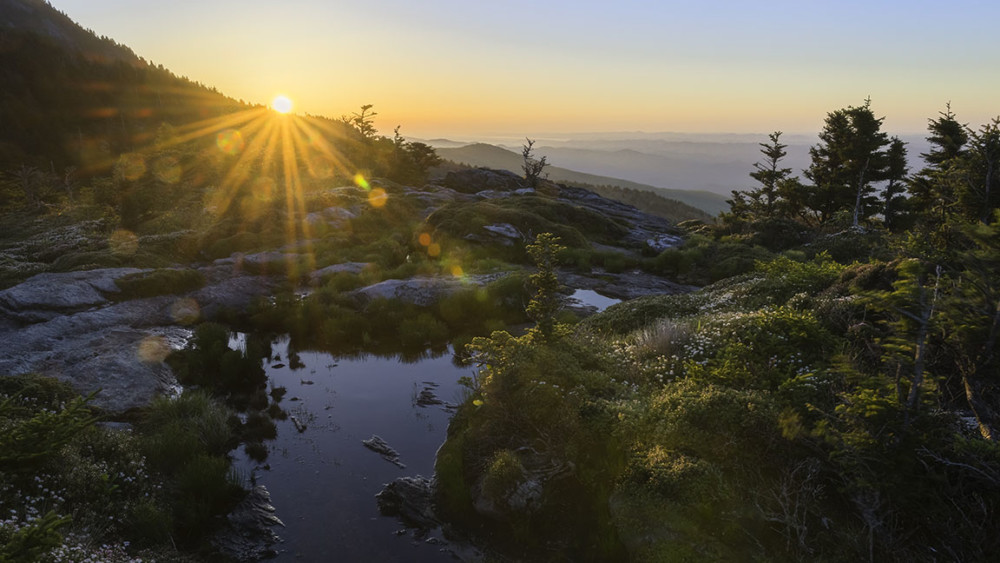 Madeline

It's unbelievable the view of nature. The Mile High Swinging Bridge and everything else you have. To hike surrounded by nature's beauty!

 
Jesi

We had a wonderful day although it was rainy we still enjoyed ourselves, the kids loved it!! The spiced cider in the fudge shop was the best. Thanks for a memorable day that will be talked about for a while to come.

 
Ray

Enjoyed your work of art in August. The mountain has came a long ways since my last trip 17 years ago, and all for the good. I am glad the bridge is accessible to persons in wheelchairs, as I am. Thanks for a good day.

 
BP

I traveled to Grandfather Mt. with my soul mate. It took my breath away. It was a perfect way to share such beauty with the one you love, I couldn't imagine sharing that with anyone else in the world. It's the natural beauty that captured both our hearts and will live within us forever.

 
Jeff

This visit to Grandfather Mountain was clearly worth the drive up to see the beautiful views and the animals in the habitats. We ate at the restaurant and went to the nature museum also which was nice. Really enjoyed the drive up.

 
Reyna

Breathtaking! My family & I visited Grandfather Mountain for the very first time in July and we all loved it. Will definitely make plans to visit again!

 
Kathy

What a delight to experience a cool breeze at the top of the mountain on a hot, hot day! It was a wonderful visit and one we will definitely repeat now that we know this great place is so close to home!

 
Theresa

We visited Grandfather Mountain this summer and had a great time. We spent half the day enjoying all the mountain has to offer and enjoyed seeing the animals and sights. Thank you to all who work hard to provide a great vacation destination.

 
Ramona

We had an amazing time. I loved the new top shop – it's definitely something to be proud of. Having severe arthritis in my hips, the elevator was a Godsend! Thank you for such wonderful people. This trip was great. We got to see the bears fed an afternoon snack. You have such wonderful views

 
Kim

My family and I visited from NJ. If you love nature, you will love Grandfather Mountain. It is a steep drive in your car, but worth it for a wonderful view. There is hiking at many different levels, animals and great picture taking. Enjoy!

 
Omiyma

All the nature scenery takes your breath away. Beautiful colors of flowers, sky, mountains, leaves, water fall, sunrise, sunset, music, songs. All are my favorites.

 
Patricia

It was the most breathtaking experience we ever shared as a family. Many memories were made as we hiked on the trails, crossed the mile high bridge and saw the views of this part of our state. We wanted to thank the locals who greeted us, welcomed us, and made our first visit the best!

 
Anne

The view was awesome, but the most impressive thing was the wind blowing through the bridge. It sounded like a symphony. It made me aware of the presence of God. The mountains around me declared His glory.

 
Don & Bev

What a rush! Just getting up the mountain was an experience. The view from the top was great. Coming down we stopped at the zoo and had a great time. People were so friendly. We met a family from Africa-and I thought I drove a long way! Would love to come back some day.

 
Lisa

I have been going to Grandfather for 39 years now. My Grandfather used to hike on Grandfather before it was an attraction for visitors. He would pick berries to sell so he could buy shoes for himself. We loved the old swinging bridge, but love the new one too. Now that I have my own

 
Bob

I really enjoyed the walk and visit to Grandfather Mountain. The most interesting was the Swinging bridge because I noticed it was supported by my company's equipment. My company (Crosby/Lebus) make equipment for lifting, towing, tying down, and hauling. Our components are used on the bridge for holding the riggings. You used the best and

 
Sarah

This was an amazing sight! I wish to go again soon.

 
Christina

I loved it! We went as a church trip. It was fun and I saw new things I have never seen. We're going back next year for sure. Lots more are going and looking forward to it.

 
Andrea

My husband, myself and our 6 year old daughter went to Grandfather Mountain, and we hiked up the mountain instead of driving. We had a blast. It is so beautiful there, we are planning to go back. I recommend it to everyone.

 
Bill

The entire family (ages 13-50) had an excellent time. We went from the Mile High Swinging Bridge to the top of MacRae Peak. Beautiful trails, beautiful scenery, and beautiful weather. We will definitely all be returning soon….

 
Kenneth

The beauty and magic of this place is absolutely amazing, This place is a master piece of God's creation.

 
Hubert Alan Gragg

Grandfather Mountain you're big and you're high. It seems that your shoulders help to hold up the sky. I will never forget you till the day that I die. Oh I will keep those old memories alive. If you have never been there a beauty so wild and so rare, it could even rival a

 
Tina

I just wanted to say that Grandfather Mountain is truly one of the most beautiful places to visit! Last year on a vacation to the Apple Festival in Wilkesboro, my fiancee decided that the Mile High Swinging Bridge would be the perfect place to pop the question! We were half way across when he got

 
Kristie

I came on Mothers Day. It was so nice I loved every moment. Every thing was so pretty and to look at the mountains was so beautiful. I have never seen anything like it. We had such a great day . It is a must !

 
Laura

The weather was wonderful, the staff was nice, and I got to take wonderful pictures. Grandfather Mountain is beautiful, especially in the summer. It is a wonderful place for a family trip. We will definitely be taking another one.

 
Shammah

My first visit to Grandfather Mountain was to attend the Singing on the Mountain, and I thoroughly enjoyed myself. Hopefully will be back to explore more of the beauty and nature.

 
Cliff

My wife and I along with our daughter, son in law and grand daughter recently visited the mountains and one of the highlights was our trip the Grandfather Mt. The reason it was great was because everything is handicap accessible. My wife is wheelchair bound and we were able to include her in everything even

 
Holly

Grandfather Mountain is my favorite place on Earth! Each time my family and I visit, we always have an amazing time. The feeling of peace I get as I look into what seems like forever off the mountain's top is unlike anything I've ever felt before.

 
Brandon

I loved it. It was for a school trip. We went through the bridge and I could feel it swinging. It was amazing up there. I never seen anything like it. I hope I come back!! It was SUPER cold! That didn't stop the beauty of it though!! Thanks for the great time!

 
James

My family and I (including our 4 year old son, our 14 year old daughter, and our 1 year old) visited Grandfather Mountain the day after Christmas. The weather was beautiful and the view was amazing. Walking across the mile high bridge and standing on the peak was a magical moment for me and my

 
Ryan

I picked up my 6 year old son from school and asked him if he could guess where I was gonna take him to spend the weekend. With eyes big and wide he asked, Grandfather Mt? I have never seen him get so happy. Or should I say, pumped up to the max. He thanked

 
Gail

My family thoroughly enjoyed our visit to Grandfather Mountain. It was a pleasure to watch the animals and the museum was fantastic! Everything was so clean and all of the employees were very friendly and helpful. We will be back!

 
Richard

It was first rate fun for our entire family of four (2-adults 2-girls ages 3-yrs & 7-yrs old) from the time we pulled up to the front gate til we had to sadly leave. Your staff at Grandfather Mountain went above and beyond to make our visit even more special! I was impressed as to

 
Lisa

We visited for a week from FL and the kids said Grandfather Mtn was their favorite day! They loved it there!

 
Darrell

I have been coming to Grandfather Mountain since I was a small child. The change of seasons is more markedly pronounced than anywhere else I've ever been. Every season has it's own sights and smells and of course brings you a different pleasurable sensation of feelings every time.

 
Kent

I was amazed with the scenery and the way the mountains just made my mouth drop in awe and wonder. I have began hiking as a hobby lately after having a major back surgery in January 2010. Now after coming there I have a new goal to hike up MacRae Peak so we will be

 
Jennifer

Had a great time with the family. Even with rainy weather, the experience was awe inspiring.

 
Lisa

I visited Grandfather Mountain with my 3 daughters. We had a wonderful time. The staff was very friendly. The young man who was providing enrichment for the animals was especially knowledgeable and patient as my children asked lots of questions. My daughter asked to adopt "Jane" as a result of our visit and the information

 
Karen

Rode our Harleys up the mountain — what a great ride. Technical. Awesome switchbacks, just have to watch out for trucks coming down. Views were spectacular. Will be back this summer.

 
Joyce H.

Visited today for the first time since I was small. Really enjoyed it! The views were wonderful and can't wait to go back again. A big THANK YOU for the Dollar Days for nearby residents.

 
Monica W.

Absolutely breathtaking! I'm a big chicken and worried about crossing the Swinging Bridge for weeks. So glad I conquered my fears and crossed the bridge with my fearless husband. We drove the entire Blue Ridge Parkway, and Grandfather Mountain was a highlight! Thank you.
Share Your Experience with Us!
To send a comment, fill out this brief form below.
You can also share your thoughts with us on Trip Advisor.