Click here to see the rest of the 2011 Fall color Gallery.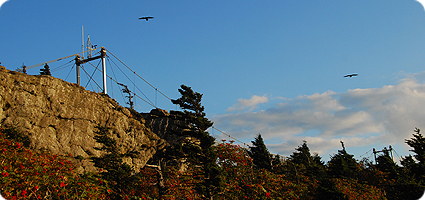 High winds and snow flurries have made October 1st a memorable day!  Winds are sustained at 30 mph and gusting to almost 60 mph.  The Swinging Bridge is "Singing" today as the wind blowing through the railings makes music like a harmonica.  The high winds will scatter many leaves to the ground this weekend, but it is early in the season and there are plenty of leaves holding tight to the trees.
The ravens enjoyed surfing the sky on the high winds this afternoon. Although the peaks were in and out of the clouds much of the day, when it did clear guests got a good view of the skyline of Charlotte – without the need for binoculars!
The best to find color right now is at the intersection of NC 105 and NC 184 at Tynecastle and on the Blue Ridge Parkway at Beacon Heights near milepost 305.  Other high places to look for great color will be Sugar Mountain and Beech Mountain.  Bundle up if you are going to the "Autumn at Oz" party at Beech Mountain this weekend!