Click here to see the rest of the 2011 Fall color Gallery.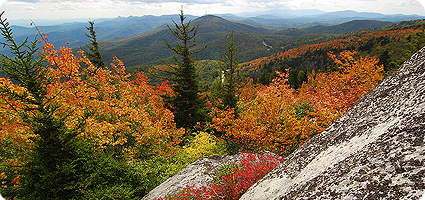 After days of fog and rain, the skies are clearing and we have hope of sunny days ahead.  The fall color is changing very quickly, especially above 4,000 feet in elevation.  This photograph by Helen Moss Davis was taken at 5,000 feet from the Black Rock Cliffs above the Blue Ridge Parkway.
The best to find color right now is at the intersection of NC 105 and NC 184 at Tynecastle and on the Blue Ridge Parkway at Beacon Heights near milepost 305.  Other high places to look for great color will be Sugar Mountain and Beech Mountain.  Beech Mountain is hosting the "Autumn at Oz" party this weekend, October 1-2.