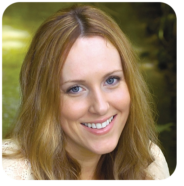 The next installment of Grandfather Mountain's evening lecture series is looking to be a page-turner.
On Thursday, Aug. 16, the Linville, N.C., nature park will host bestselling Appalachian novelist Amy Greene.
Her appearance, taking place from 6 to 8 p.m., is part of the Grandfather Presents lecture series. Refreshments will be served until 6:30 p.m., and guests will have the opportunity to talk with Greene following the presentation.
"At Grandfather Mountain, we like to bridge outdoor fun with education," said Frank Ruggiero, director of marketing and communications for the Grandfather Mountain Stewardship Foundation, the nonprofit organization that owns and operates the Linville, N.C., nature park. "With Grandfather Presents, guests can enjoy presentations from some of the country's foremost experts on the natural world, including professors, naturalists, scientists, photographers, writers, historians and artists."
Greene falls into several of those categories.
"The Grandfather Presents series exposes participants to expert perspectives on issues concerning the natural world," said Amy Renfranz, director of education and natural resources. "Amy Greene's writing revolves around characters that have close connections to the place they live — in the Appalachian Mountains."
Renfranz said Greene will discuss this connection to the land through her presentation, titled, "Preserving the Spirit of Mountain Culture Through the Written Word."
"Her writing gives life to the land and its people and will allow participants to view the surrounding mountains in a whole new way," Renfranz said.
Greene, a native of Morristown, Tenn., grew up in Whitesburg, Tenn., in the foothills of the Great Smoky Mountains, where she began writing stories about the people of Appalachia at a very young age.
Her debut novel, "Bloodroot" (2010), was named among Booklist's Top 10 Debut Novels and received the Weatherford Award for Fiction. Greene was also named the 2010 Tennessee Writer of the Year.
Her second novel, "Long Man" (2014) won the Willie Morris Award for Southern Literature and was a Washington Post Top Book of 2014, among other accolades.
"Amy's novels have a William Faulkner or Flannery O'Connor feel to them — classical myth set in Appalachia. There are heroes and heroines, joy and tragedy," Renfranz said. "Although her novels are nationwide bestsellers, she is from our area. She writes beautifully about places and characters like the ones we know.
Admission to Grandfather Presents: Amy Greene costs $20 for general admission and is free for members of Grandfather Mountain's Bridge Club annual membership program. Space is limited, meaning registration is required by emailing judi@grandfathermtn-staging.v38mw8dg-liquidwebsites.com or calling (828) 733-2013.
To learn more about the Grandfather Mountain Bridge Club, or to become a member, visit www.grandfathermtn-staging.v38mw8dg-liquidwebsites.com/preserving-protecting/become-a-member/.
The not-for-profit Grandfather Mountain Stewardship Foundation strives to inspire conservation of the natural world by helping guests explore, understand and value the wonders of Grandfather Mountain. For more information, call (800) 468-7325.