How scary is Halloween at Grandfather Mountain?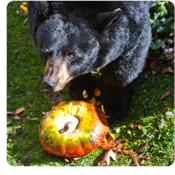 Beary scary.
Grandfather Mountain's Beary Scary Halloween festival returns Saturday, Oct. 31, offering a full day of nature programs about creepy, crawly critters, Halloween-themed crafts, animal enrichments and trick-or-treating — all included with park admission. Plus, kids in costume enter the park for half price.
"Beary Scary Halloween is a great chance to meet the Grandfather Mountain animals and learn about some of the creatures that you might consider creepy or scary," said Christie Tipton, curator of the Grandfather Mountain Animal Habitats. "The staff joins in on the fun by dressing up in costume, and the mountain is decorated just for the occasion."
The day kicks off at 10:30 a.m., with a craft booth in the Nature Museum, where kids can make spider houses or bats. Between 11 a.m. and noon, guests can trick-or-treat with the Grandfather Mountain animals and their keepers in the Animal Habitats.
At 11:30 a.m., boys and ghouls are invited to meet a couple of eccentric characters during a storytelling session in the Nature Museum Auditorium.
During the "Fatten Up for Fall" program at 12:30 p.m., which meets at the museum's Mildred the Bear statue, kids can figure out what it takes for bears to survive the winter "by becoming bears themselves," Tipton said.
At 1 p.m., guests can help the keepers decorate Halloween pumpkins and other treats to give to the animals during the day's special animal encounters, or they can make an "enrichment" for themselves. Animal enrichments help break up the animals' routines and encourage them to stay active and intellectually stimulated, Tipton explained.
Starting at 1 p.m., festivalgoers can stop by the Nature Museum to see a booth of "Creepy, Crawly Critters" and learn about creatures of the night, creatures that bite and other "spooky" animals.
A kids' costume contest begins inside the Nature Museum Auditorium at 1:30 p.m., with prizes awarded for the winning costumes.
At 2 p.m., guests are invited to walk along with the habitat keepers, as they deliver the Halloween treats prepared earlier in the day. The enrichment session begins at the deer habitat, before visiting the otters, cougars and bears.
The day concludes by putting visitors face to face with a few spooky prowlers in an animal encounter at 2:45 p.m. in the Nature Museum Auditorium.
All programs are included with park admission. For more information, visit www.grandfathermtn-staging.v38mw8dg-liquidwebsites.com/events/beary-scary-halloween/,or call (828) 733-2013.