Click here to see the rest of the 2011 Fall color Gallery.
Oct. 16 – Sunday is a sunny, warm day.  It is still breezy, wind sustained over 25 mph, but the high winds we experienced the past couple of days seem to have moved on.  Skies are clear (the staff could see the Charlotte skyline this morning) and it is going to be a beautiful day at Grandfather Mountain.
Tips for visiting Grandfather Mountain during peak fall color season.
Today's photo is of a barn in Valle Crucis, the community that yesterday hosted the Valle Country Fair.  Yesterday was also the 34th running of the worms at the Woolly Worm Festival in Banner Elk.  A woolly worm named Yo-Yo Ma raced by Matt Buckland of Morganton, NC was the grand prize winner and won the right to make the official winter weather forecast.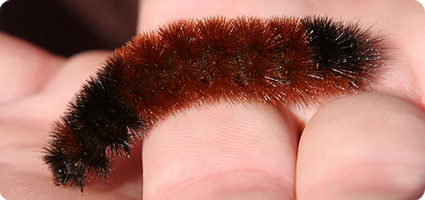 Yo-Yo Ma predicts that the first week after the winter solstice (Dec. 22) will have light snow and cold temperatures.  The first three weeks of January will be cold and snowy, followed by light snow and cold in the last week of January.  During the month of February and through the first week of March, the High Country can expect normal cold temperatures. The season will close out during the second and third week of March with cold and snowy weather.
The best route for color right now is the Blue Ridge Parkway from Spruce Pine to Virginia.
Other colorful routes are
NC 105 from Linville to Boone,
NC 184 from Tynecastle to Banner Elk,
Beech Mountain Parkway to the top of Beech Mountain,
NC 181 from Jonas Ridge to Newland,
NC 194 from Elk Park to Banner Elk (road construction between Banner Elk and Valle Crucis),
US 19E from Spruce Pine to Cranberry
US 321 from Boone to Watauga Lake
US 421 from Boone north to Trade, TN.