GRANDFATHER MOUNTAIN CELEBRATES "60 YEARS OF SWING" IN SEPTEMBER WITH SPECIAL OPPORTUNITIES AND PROGRAMS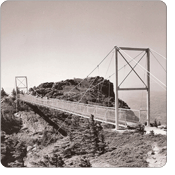 The Grandfather Mountain Stewardship Foundation has put together a month-long celebration during September to commemorate the 60th Anniversary of the Mile High Swinging Bridge.  The schedule reflects a variety of activities from musical and cultural entertainment to educational programming and special access to the nature park.
Two sunrise opportunities (September 2 and 30) and two sunset opportunities (September 7 and 21) are on the schedule as well as weekend performances by a local clogging group (September 22) and local musicians (September 29).  In addition to these special events, the Mountain will also host the 9th Annual Kidfest, the 42nd Annual Girl Scout Day and the Bridge Bike Ride during the month. (more)
---
NORTH CAROLINA AUDUBON RECOGNIZES GRANDFATHER MOUNTAIN IBA
The Grandfather Mountain IBA (Important Bird Area) is the featured IBA for the month of September on the ANC (Audobon North Carolina) website, Facebook page and other social media.  The ANC features one of the 97 IBA's in North Carolina each month.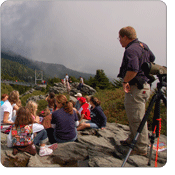 Grandfather Mountain Director of Education and Natural Resourses, Jesse Pope, will be contributing a blog post to the ANC website outlining his plans to explore Grandfather Mountain as a possible hawk count site.
"We've been conducting preliminary hawk counts over the past several years," said Pope.  "We believe Grandfather Mountain will be a premier hawk watching site and through this monitoring program we hope to gain a better understanding of how and when hawks move through our area."
Hawk watching opportunities with members of the park's education staff are scheduled for every Thursday in September from 10:00 a.m. to 4:00 p.m.  Please register ahead of time if you wish to actively participate: (828) 733-3224.
---
GLENN BOLICK TO SHARE MOUNTAIN CULTURE WITH CHILDREN AT GRANFATHER MOUNTAIN KIDFEST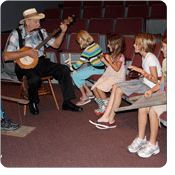 Glenn Bolick, local authority on Appalachian culture and folklore, headlines Grandfather Mountain's 9th Annual Kidfest on September 8.  Bolick is a bona fide expert storyteller, potter, musician, singer, songwriter and presenter.
Growing up in Caldwell County, Bolick was exposed to sawmilling, storytelling and music from a very young age.  His earliest musical influences were his grandparents and aunt who used to sing shape-note gospel hymns in three-part harmony. (more)
---
FEMALE NASA SCIENTIST TO SPEAK AT GIRL SCOUT DAY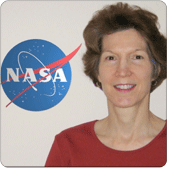 Senior research scientist Dr. Dorothy K. Hall is set to give a presentation at the 42nd Annual Girl Scout Day at Grandfather Mountain on Saturday, September 15.  Hall's presentation is in the Nature Museum Auditorium where she is set to share her research and discuss what it is like to be a woman in a competitive science field.
Hall is a senior research scientist in the Cryospheric Sciences Branch at NASA/Goddard Space Flight Center, Greenbelt, Md., where she is involved in research related to the remote sensing of snow and ice including studies of snow cover, glacier ice, lake ice and sea ice. (more)