GRANDFATHER MOUNTAIN ADDS DAILY EVENTS CALENDAR TO WEBSITE
GRANDFATHER MOUNTAIN, NC – In an effort to make Grandfather Mountain's website (www.grandfathermtn-staging.v38mw8dg-liquidwebsites.com) more user-friendly and helpful, Grandfather Mountain Stewardship Foundation has added a new Daily Events menu to the website's homepage.
This new feature allows site visitors to easily navigate and plan their trip by date.  The daily events menu not only includes major events, but includes smaller, daily events on the mountain as well.  This will allow visitors to discover every program that's available the day they plan on visiting the Mountain.
"We're very excited to launch this new section of the website," said Landis Wofford, Grandfather Mountain Stewardship Foundation director of communications.  "Many of the programs that we offer spring through fall are included in admission and we hope that this new section of the website creates additional awareness of these opportunities." (more)
---
AVERY COUNTY ELEMENTARY SCHOOLS COMPLETE PENNY CHALLENGE
GRANDFATHER MOUNTAIN, NC – Avery County elementary students collected their loose change March 19 – 30 and brought it to school for the Penny Challenge hosted by the Grandfather Mountain Stewardship Foundation.  The five elementary schools collected a total of $3,745.75, all benefitting the upcoming renovations on the eagle habitats at Grandfather Mountain.
Newland Elementary School raised the most change with a total of $1,226.06.  Grandfather Mountain Stewardship Foundation President Penn Dameron and members of the habitat staff visited the school last week to announce that Kelly Ward's third grade class was the overall winner for the county with a total of $253.78.  The class received balloons, candy, a framed photograph of Grandfather Mountain's golden eagle Morely and a trip to Grandfather Mountain that will include a behind the scenes tour of the animal habitats.  During the field trip, the students will make and give enrichments to the habitat animals. (more)
---
FIRST ANNUAL GRANDFATHER CAMPOUT AT GRANDFATHER MOUNTAIN
This summer at Grandfather Mountain brings a brand new event, offering participants unique and new opportunities on the Mountain.  The First Annual Grandfather Mountain Campout July 27-29, is an all-weekend event hosted by the Grandfather Mountain Stewardship Foundation.
During this campout, guests can spend up to three days and two nights camping in MacRae Meadows between organized events all over the Mountain.  Grandfather's education and interpretive staff will be present in the camp area to assist novice campers, answer questions and even offer campfire treats and activities.  The campsite will be safe, cater to all levels of camping experience and welcomes families, couples, and solo adventurers throughout this weekend of wonder. (more)
---
FAITH KIDD WINS GRANDFATHER WINTER WEATHER CONTEST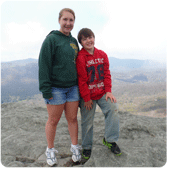 Faith Kidd of Asheboro, NC has been named the winner of the Grandfather Mountain Winter Weather Contest.  With her expert knowledge of Grandfather's coldest season, Kidd beat out 45 other contestants who submitted their forecasts online.
Kidd answered three questions correctly along with four other contestants but her tie breaker response was closest to the correct answer and earned her the overall prize.
Her response of "January" to a question asking what month would have the coldest average low temperature was correct. She also hit the nail on the head when he guessed which month would bring the most snowfall to Grandfather.  The month of January was the winner with 7.3 inches of snow recorded.  Kidd also correctly guessed that no snow would fall on Grandfather Mountain during Christmas Day.
The tie breaker question asked how many inches of snow would fall in February.  A measurement of seven inches of snow was recorded for the month.
Kidd, 14, said that she entered the Winter Weather Contest for fun and her strategy included a balance of using hints from past years and pulling the answers "off the top of my head."
As winner, Kidd earns a prize package consisting of a day pass for six to visit Grandfather and a free lunch at Mildred's Grill.  Kidd says she is excited about coming back to Grandfather, crossing the Swinging Bridge and walking across Linville Peak.