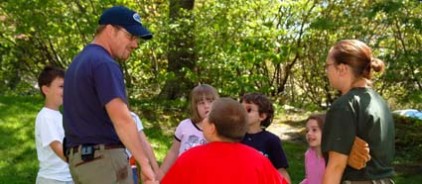 Thank you for your interest in working at Grandfather Mountain.
Grandfather Mountain is an equal opportunity employer and does not discriminate on the basis of race, color, religion, sex, national origin, disability, or age.
When to apply: Opportunities for employment vary by department, but typically supervisors begin reviewing applications for seasonal employment in February/March and have staff in place by April/May. You are welcome to send in an application at any time of the year, as needs may change during the course of the season. Most seasonal jobs begin in April and end in late October or November.
Available Positions and Applications:
All positions are currently filled. Positions will be posted on this site as needed throughout the year.
The pay rate is based on the applicant's experience and qualifications.
To apply for a position with the restaurant, gift shops, ticket gate, maintenance staff, trail rangers, naturalists, animal habitats or another department, please download and complete the appropriate application available above and mail it to Employment, Grandfather Mountain, P.O. Box 129, Linville, N.C. 28646, or email it to kim@grandfather.com. For more information, call (828) 733-2013.
Offers of employment are contingent upon the satisfactory outcome of a criminal background check.