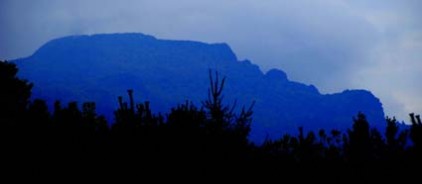 Story Ideas
Nature Tourism
Win-Win Preservation
The State of North Carolina and the Grandfather Mountain Stewardship Foundation have developed a great collaboration that insures that Grandfather Mountain is permanently protected from development. The state manages about 2,500 acres of the backcountry in the Grandfather Mountain State Park, and the Grandfather Mountain Stewardship Foundation protects another 720 acres that its operates as scenic travel attraction.
Greening of Grandfather: Walking the Walk
Consultants from the Department of Technology at Appalachian State University were brought in to conduct a survey of Grandfather Mountain's energy usage. From that, the consultants developed a plan for the greening of Grandfather that combines suggestions for reducing consumption with ways the park can generate its own green power.
Grandfather Mountain Is A United Nations Biosphere Reserve
The United Nations Educational, Scientific and Cultural Organization has formally acknowledged Grandfather Mountain's ecological significance by selecting it as a unit in its international network of Biosphere Reserves.
Hiking Along The Top Of The Blue Ridge
Grandfather Mountain's 13-mile trail system offers amazing diversity, at times threading through blueberry patches, around house-sized boulders, up one of eleven ladders used to traverse steep sections, or down a stone staircase fashioned from a dried-up stream bed. Considered the best alpine hiking in the South, a hiking party can cross through a dozen or more ecological communities and pass through a variety of forest types and climate zones on a single outing.
Grandfather Mountain Is Habitat For Shutter Bugs
Photographing nature is growing in interest across America as people search for a meaningful way to spend time in the outdoors. Grandfather Mountain hosts a Nature Photography workshop that attractes 165 participants each year to spend a weekend photographing the spectacular scenery and extraordinary wildlife available to their cameras at Grandfather. Presenters have included top outdoor photographers like Tony Sweet, Art Wolfe, John Shaw, David Muench and Bill Lea.
What Is Black, Has Big Ears And Only Comes Out At Night?
The Virginia Big-Eared Bat is only one of 73 rare or endangered species that thrive at Grandfather Mountain. Discover more about the place The Nature Conservancy considers the most biologically diverse mountain in the East.
Canadian Climate In The Carolinas
Spruce-fir forest, unexpected populations of northern species such as the Saw-whet Owl and Northern Flying Squirrel, and an average temperature of 45.9 degrees testify that Grandfather Mountain is one of the few places south of Canada to encounter life in the boreal climate zone.
Soft Adventure
They're a Natural: Staff Naturalists Make Your Visit More Fun
Grandfather Mountain's staff naturalists offer an array of presentations, nature walks and guided hikes for guests who desire a deeper encounter with the natural world. The list of programs is diverse and ranges from a slide presentation on river otters (followed by an up-close and personal visit to the habitats to watch otters at play), to plant and wildflower walks, to guided half-day hikes through Grandfather Mountain's wilderness backcountry. Many of the activities are included in the admission price, while others require advance booking and additional charges.
There Is a Trail, Not A Troll, Under The Bridge
Hiking Grandfather Mountain doesn't have to be frightening to couch potatoes! The Bridge Trail was added as a way to channel visitors toward a shorter, more gradual outdoor challenge while fulfilling the visitors' desire to tell their friends that they hiked Grandfather Mountain. The Woods Walk was added to make nature accessible on an even more moderate level.
Watch The Birdies
The unique ecosystem on Grandfather Mountain sustains the most diverse population of nesting birds in the Southern Appalachians. Grandfather Mountain responds to the exploding interest in bird-watching by offering bird walks led by area ornithologists and staff naturalists.
Biological Diversity People Can Enjoy
Due to a combination of geology, geography and climate that supports 16 distinct ecological communities in less than 5,000 acres, Grandfather Mountain is recognized as one of the most biologically diverse tracts of land on the planet. Twelve miles of well-maintained trails give guests access to this spectacularly varied backcountry terrain.
Heritage Tourism
Mountain Moves Muir
John Muir, founder of the Sierra Club and father of America's National Parks, began to jump about and sing upon reaching the top of Grandfather Mountain. Grandfather celebrated the 110th anniversary of this memorable moment on Sept. 26, 2008.
Grandfather's Highland Games Take You To A Far Away Place That Is Not Far Away
Colorful tents encircle a highland meadow, hundreds of tartan banners fill the air, and brawny kilt-clad champions come forth, like Braveheart, to compete with heavy stones and the trunks of trees. The world's largest annual gathering of Scottish clans is not in the highlands of Scotland, but rather, in the highlands of North Carolina.
"Singing on the Mountain" Is Tradition As Old As The Hills
Celebrating its 90th anniversary in 2014, "The Singing on the Mountain" at Grandfather Mountain is perhaps the oldest ongoing gospel singing convention in the Southern Appalachians. Dozen of the most popular Southern Gospel groups perform at this authentic mix of camp meeting, family reunion, Sunday school picnic and flea market.
A Centuries-Old Heritage
The Cherokee called it "Tanawha" or "Great Hawk," and held its high peaks in great reverence, as did Daniel Boone and other frontiersmen who climbed and hunted its slopes. The mountain continues to inspire works of art in the hill and valley communities beneath it. Included in The Craft Heritage Trails of Western North Carolina, a guidebook to an artfully meandering system of routes that take travelers to the front porches and showrooms of the region's master craftspeople, Grandfather is one of 58 stops on the "High Country Ramble."