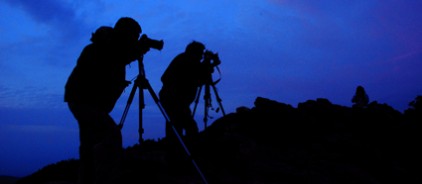 High Resolution Photos — Fall
All photographs here are available for free download and publication to accompany articles in newspapers and magazines. These images may not be sold to any party, and may not be used in brochures, advertisements or other commercial context. To request any of these images as tif files, contact us by email (frank@grandfather.com) or call 800-468-7325.
To capture the high resolution image: Double click on the underscored, blue link which identifies the photo you wish to capture. That will open the image. After the image is fully opened, right click (for Mac, control click) on the image and save it to your hard drive.
fall_profile2.jpg
photo by Hugh Morton (1.3 MB)
As seen from the Foscoe community between Boone and Linville, the profile of Grandfather Mountain depicts the silhouette of a bearded man facing the heavens.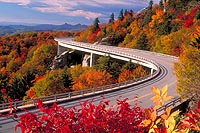 viaduct-fall.jpg
photo by Hugh Morton (1.1 MB)
The award-winning Linn Cove Viaduct crosses the southern slope of Grandfather Mountain.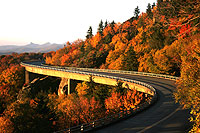 sunrise_viaduct.jpg
photo by Jim Morton (.741 MB)
The Linn Cove Viaduct carries the Blue Ridge Parkway gently across the slopes of Grandfather Mountain.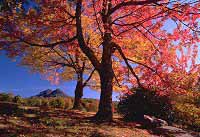 from_macrae_meadows.jpg
photo by Hugh Morton (1.74 MB)
Colorful maples in MacRae Meadows at Grandfather Mountain.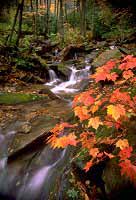 stream_in_autumn.jpg
photo by Hugh Morton (1.02 MB)
Rainwater runs off quickly from the high slopes of Grandfather Mountain, creating picturesque mountain streams as it goes.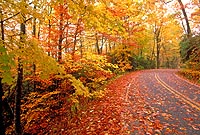 fall-road.jpg
photo by Hugh Morton (1.2 MB)
Driving along country roads littered with fallen leaves is one of the more magical traditions of autumn.
autumn-attic-window.jpg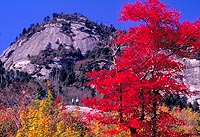 photo by Hugh Morton (1 MB)
Looking up at Grandfather's Attic Window Peak from the Blue Ridge Parkway is especially colorful because of the profusion of maple trees in that area. The bright foliage of the hardwoods stands out against the gray cliffs and is punctuated by the deep greens of the Spruce Firs.
Click here to see summer photos.