PENN DAMERON STEPS DOWN AS EXECUTIVE DIRECTOR
After five years as president and executive director, Penn Dameron has left the Grandfather Mountain Stewardship Foundation. His last day was April 18.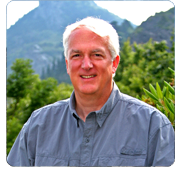 Dameron joined the Mountain in 2009 as it was transitioning from a privately owned property to a nonprofit organization. He previously served as executive director of the Blue Ridge National Heritage Area and spent a combined 30 years as a trial lawyer and Superior Court judge.
As a college student in the 1970s, Dameron had a summer job at Grandfather Mountain, selling tickets, pumping gas at the entrance gate and helping with the "Mildred the Bear Shows" held twice daily in the 1960s and '70s.
The Grandfather Mountain Stewardship Foundation Board of Directors has selected Chairman Jim Morton to serve as president while maintaining his chairman role.
The board also decided not to name a new executive director at this time. Board members are in the process of determining where they want the Stewardship Foundation to go in the next decade and what sort of leader will be needed to take it there.