SUNRISE AND SUNSET EXPERIENCES OFFERED THIS SUMMER AND FALL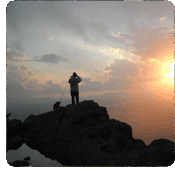 The Grandfather Mountain Stewardship Foundation is once again offering the public the opportunity to experience sunrise and sunset inside the nature attraction.  The experience is great for photographers wanting to get incredible photos during a time when the public is not usually able to be inside the attraction and also great for families and friends wanting to enjoy a special morning or evening.
Sunset opportunity dates are August 30 and September 28.  Sunrise dates are August 25, September 8 and October 5.
The cost is $10 per person.  Details for each occasion are listed on the Featured Events calendar on www.grandfather.com.  Reservations for each opportunity are required and must be made by calling 800-468-7325.