GRANDFATHER MOUNTAIN ADDS NEW SPLIT ROCK PARKING LOT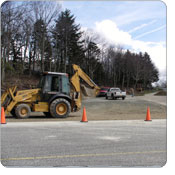 Grandfather Mountain is finishing up construction of a new parking lot located between the Fudge Shop and Split Rock.  This 20+ space parking lot offers additional parking for the Museum and Animal Habitats, while also providing more space for guests visiting Split and Sphinx Rocks.
Ever since guests began receiving a complimentary audio tour CD with admission, Split and Sphinx Rock have become a popular destination along the path to the top of Grandfather Mountain.  This new parking lot will assist with the high volume of vehicles in the area and offer guests a safer, more relaxed experience while visiting these two unique boulders.
In keeping with Grandfather Mountain's standard policy of sustainability, the project reused leftover concrete from the old Top Shop as base for a portion of the parking lot rather than using new gravel.  The paving process began March 22 and lines will be painted in the coming weeks.