FAITH KIDD WINS GRANDFATHER WINTER WEATHER CONTEST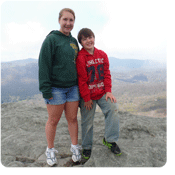 Faith Kidd of Asheboro, NC has been named the winner of the Grandfather Mountain Winter Weather Contest.  With her expert knowledge of Grandfather's coldest season, Kidd beat out 45 other contestants who submitted their forecasts online.
Kidd answered three questions correctly along with four other contestants but her tie breaker response was closest to the correct answer and earned her the overall prize.
Her response of "January" to a question asking what month would have the coldest average low temperature was correct. She also hit the nail on the head when he guessed which month would bring the most snowfall to Grandfather.  The month of January was the winner with 7.3 inches of snow recorded.  Kidd also correctly guessed that no snow would fall on Grandfather Mountain during Christmas Day.
The tie breaker question asked how many inches of snow would fall in February.  A measurement of seven inches of snow was recorded for the month.
Kidd, 14, said that she entered the Winter Weather Contest for fun and her strategy included a balance of using hints from past years and pulling the answers "off the top of my head."
As winner, Kidd earns a prize package consisting of a day pass for six to visit Grandfather and a free lunch at Mildred's Grill.  Kidd says she is excited about coming back to Grandfather, crossing the Swinging Bridge and walking across Linville Peak.