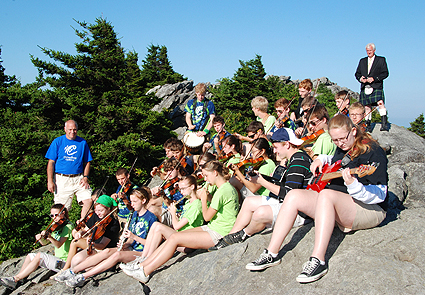 GRANDFATHER MOUNTAIN, NC- Grandfather Mountain announces an additional special event during the Highland Games, "A Celtic Morning on the Mountain". On July 10 at 8:30 a.m. there will be a Scottish breakfast followed by a performance from the Chelsea House Orchestra.
The breakfast will take place at 8:30 a.m. in Mildred's Grill and the musical performance will begin immediately afterwards in the Nature Museum Auditorium. Traditional Scottish breakfast items such as sausage, beans, potato hash and grilled tomatoes will be featured. The event ticket price of $15 per person includes admission into Grandfather Mountain, the Scottish breakfast and the performance.
The Chelsea House Orchestra performed at the Grandfather Mountain Highland Games in 2010 and quickly became a crowd favorite. An impromptu concert atop Grandfather Mountain by the Swinging Bridge served as the inspiration behind this year's "A Celtic Morning on the Mountain."
"We think this event will provide guests the opportunity to really appreciate the group's blend of celtic and orchestral music in a more intimate setting," said Penn Dameron, executive director of Grandfather Mountain Stewardship Foundation.
Jed Fritzemeier first started the Chelsea House Orchestra in 1996 with only 10 students. Just three years later, the group was a well-known force in the world of Celtic music. They are part of a nonprofit program from the Chelsea School District in Michigan where students are encouraged to learn all aspects of Celtic culture and to perform on Celtic Festival stages and in fairs throughout the region. Today, the Chelsea House Orchestra is comprised of more than 30 young musicians who play a varied range of instruments including violins, violas, cellos, basses, guitars, flutes, oboes, bodhrans, djembes and harp.
"As some of the younger musicians at the Highland Games, they bring a special energy to each performance. Their music is great and they are a lot of fun," said Dameron.
"A Celtic Morning on the Mountain" will conclude in time for participants to be back at MacRae Meadows for the Parade of Tartans at 10:30 a.m. Admission to the Grandfather Mountain Highland Games must be purchased separately. See www.gmhg.org for ticket information.
Advance reservations are required for the breakfast program. Please make your reservation by calling 800-468-7325 before July 5.
Grandfather Mountain is a globally recognized nature preserve famous for its 360-degree vistas, native wildlife habitats and Mile High Swinging Bridge. The attraction is located on US Highway 221, two miles north of Linville, NC, and one mile south of the Blue Ridge Parkway at milepost 305.
The Grandfather Mountain Stewardship Foundation is a not-for-profit corporation established to preserve Grandfather Mountain, operate the nature park in the public interest and participate in educational research activities. For more information phone 800-468-7325 or plan a trip at www.grandfathermtn-staging.v38mw8dg-liquidwebsites.com.