September was a big month for Grandfather Mountain — and the 10,000-plus hawks that soared above it.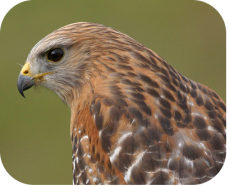 Each September, Grandfather Mountain participates in the official Hawk Watch, during which trained counters record the number and type of raptors passing above the Mountain, including bald eagles, golden eagles, peregrine falcons, broad-wing hawks, red-tailed hawks, American kestrels, merlins and vultures.
Every fall, thousands of raptors migrate from Canada and the Eastern Seaboard along the Appalachian Mountains to Central and South America. The birds use thermal air columns to gain lift and glide above the peaks toward their warmer destinations. Grandfather Mountain is an ideal spot for viewing, because it sits along the eastern escarpment of the Appalachian Mountains, and its rocky peaks generate strong thermals and allow prime visibility. In fact, the Mountain is one of more than 275 Hawk Watch sites officially designated by the Hawk Migration Association of North America.
One of the most astounding displays is that of the broad-winged hawk, which migrates in groups of hundreds or thousands called kettles. Those sightings are most common around the second to third week of September. 2015 prove to be no exception, when, on Sept. 23, Grandfather Mountain Stewardship Foundation executive director Jesse Pope and company spotted 9,714 of them.
The largest kettle contained some 4,800 broad-wings, which "passed over in less than 30 minutes in one continuous stream of hawks," Pope said. "At one point, the stream that formed over Beech Mountain stretched for three-quarters of a mile."
Pope called it "by far, the best day ever recorded at Grandfather Mountain."
All in all, Hawk Watch volunteers logged more than 130 hours on the Mountain, counting some 10,739 hawks in the process.
For more information on Hawk Watch, visit www.hawkcount.org.