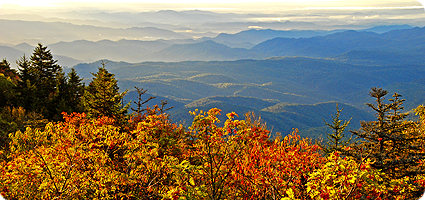 Oct. 4 — Today's weather is sunny and seasonably warm with temperatures in the 50s.  There is a lot of color in the leaves just hiding under a thin layer of green.  It is like they are waiting for something to come pump up the volume!  Perhaps the week of sunny days in the forecast will be just the ticket.
Helen Moss Davis took today's photograph along the road to the Mile High Swinging Bridge near the sign that marks the 5,000-foot elevation.
The best route for color right now is the Blue Ridge Parkway Beacon Heights at milepost 305 and Julian Price Park at milepost 295.  The color is a bit muted today, but you can tell it is just about to bust out loud this week and next.
Other colorful routes are NC 184 starting at the Tynecastle intersection with NC 105 and driving toward Sugar Mountain.  Beech Mountain Parkway and the top of Beech are starting to turn as well.